---
The Louis Rubin Memorial Approach
---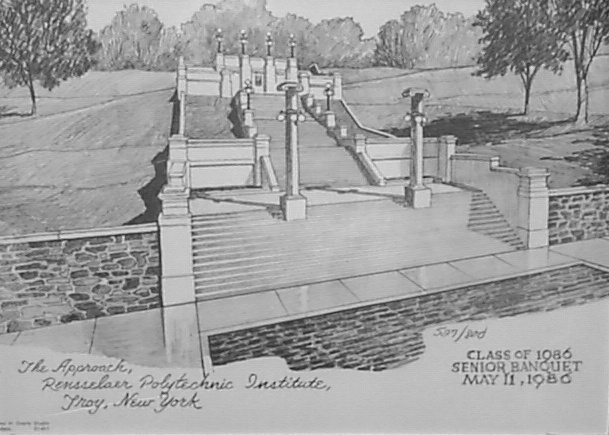 Charles H. Overly Studio
Harvard, Massachusetts 01451
---
Welcome!
We've been waiting Oh So Many Decades for this to happen, and this page is my way of saying Thanks to all that helped bring about the Approach's rebirth.
The intent of this page is to be a pictorial history of sorts. I'll be adding pictures as the work progresses and there won't be too many of my words to go with them. This is where you, the viewer come in. If you have Approach related stories , as-it-was-then pictures, or whatever, I will gladly include them*.


My first encounter with The Approach was as a LaSalle student on the way to the Armory to do the weekly drill. That was in 1964. As a member of the Heavy Ion Beam Probe research team on campus, I still occasionally brave the Approach for fun, on the way down to Troy.


I would be remiss in not also thanking the Electrical, Computer, and Systems EngineeringDepartment. Their digital camera, laptop, and scanner will make this possible. Also thanks to Ken Connor for not borrowing the camera ;) and XtraSpecial thanks to Paul Stewart, who made writing HTML soooo easy!


I have minimized the image filesizes severly to let you modem users enjoy the show too and most of you won't notice the difference. If, though, you want a specific image in all it's digital glory, drop me a line and I'll place it online for you.
Enough! On with The Show.
---
---
*Photos and/or other forms of artwork will be given the white glove treatment and unless you say otherwise, will be promptly returned in a timely manner. While in my care they will either be within reach, or in a rather fire-proof vault.

If you choose not to have them returned, they will be given, in your name, to the RPI Archives.

Mail:John G. Schatz, Jr.